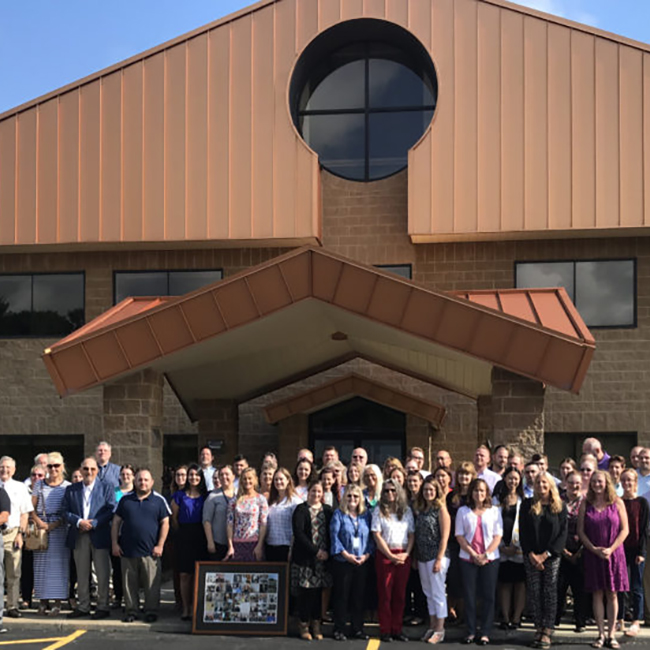 Careers at Ongweoweh Corp
Positions at Ongweoweh
Ongweoweh Corp is hiring ! To apply, please send your resume to hr@ongweoweh.com or call (607) 266-7070.
Ongweoweh Benefits
Ongweoweh Corp offers extensive benefits for all of their employee's, covering generous health premiums for individuals and families in addition to providing vision, dental and life insurance. Ongweoweh Corp also provides benefits to qualified domestic partners (same and opposite sex). Our family atmosphere promotes a fun work environment with monthly fun day activities. We also serve our community with a charitable giving volunteer program.
Internships at Ongweoweh
Ongweoweh Corp offers internship opportunities to qualified college students in various departments. Interns gain hands-on experience while working on real-world projects and learning from some of the brightest minds in our industry. The Company also has an Internship Program geared toward Native American students as a means to provide Native youth with opportunities for professional development in business.
Account Service Representative 
 Job Summary: Provide excellent customer service, account management and reporting for assigned accounts. Respond to written and telephone customer inquiries providing information and assistance as requested. Maintain accurate customer, vendor and inventory records.  Communicate regularly with internal and external parties to ensure customer satisfaction.
 Essential Job Duties and Responsibilities:  (Additional duties may be assigned)
20% Schedule delivery/pick up requests with appropriate party and coordinate freight when needed.  Provide required documentation and delivery/pick up confirmation as requested. Instruct vendors, customers and delivery/pick up location on use of web-based software for record maintenance.
 15% Respond to customer order and/or inventory inquiries via telephone, fax and email.  Provide requested information regarding product offering, pricing, availability, delivery schedules, order status and general assistance to meet current or potential customer requirements.  Resolve any order or inventory discrepancies or customer issues such as missing documentation, late or missed deliveries/pickups as requested.
15% Interact with internal staff on a variety of issues relating to products, pricing, discounts, availability, and to identify and resolve customer/vendor concerns in a timely and professional manner.
 10% Accurately input customers' orders received into the NativeTrax and/or MAS 500 computer database and verify correctness. Enter all billable data into the accounting software system and sales orders into MAS 500 system as required for accurate records and customer reports.
 10% Maintain up-to-date pricing information for assigned customers in the billing system and maintain hard copy for customer or vendor files.  Maintain customer files and file inserts in a neat, accurate organized system for easy retrieval and verification.
10% Generate month-end billing reports for Finance and various data reports for customers as requested.
10% Establish rapport to build and maintain lasting customer and vendor relationships.10% Provide administrative support for the account management team and perform related duties as required to meet company and or department objectives. 
Education and Experience: 
High school diploma or GED required.
One to three years customer service experience preferred.
 Special Requirements: 
No special requirements present.
 Equipment, Machines and Software Used:
Ability to operate various office equipment including computer, printer, telephone, fax machine, and photocopier.
Computer Software: Microsoft D365, Sage500, Crystal Reports (or similar report software), Power BI and Microsoft Office to include Outlook, Word, Excel, and Access.
Knowledge, Skills, and Abilities: 
Must demonstrate strong communication, telephone and interpersonal skills.
Computer proficiency including word processing, data entry, spreadsheets, and generating reports using standard software applications.
Superior customer service skills for both external and internal contacts.
Ability to resolve difficult or stressful customer service issues in a professional manner.
Some analytical ability to gather and summarize data, find solutions to various administrative problems, and prioritize work.
Strong written and oral communication skills to interact with customers, vendors and co-workers in a professional and helpful manner in person or via phone or written correspondence.
Strong organizational skills including the ability to manage multiple projects and details simultaneously.
Ability to prioritize work to meet deadlines and complete projects in a timely manner.